If you're heading to Vegas for the RVDA Convention and Expo, you're cordially invited to RVT.com's Proprietary Workshop …
"Generate More Sales By Improving Your RV Listings –
10 Sure-Fire Ways To MAXIMIZE the 'Pull' of Your Ads …"
But …
If you cannot make it to Vegas … no problem!  Email me (chris@rvt.com) and I'll add you to the list and send you the presentation slides or a link to the video after the Show.
During this workshop, attendees will learn how to increase RV sales by creating optimized, responsive RV listings that trigger more …
Phone-in leads
Email inquiries and
Walk-in traffic.
It's a fast-paced, interactive (and fun!) presentation that will give you all the know-how / tips / tricks and tools you need to help you fine-tune your RV listings so they spark and stimulate more and better qualified RV shopper leads.
This short video explains what you can expect: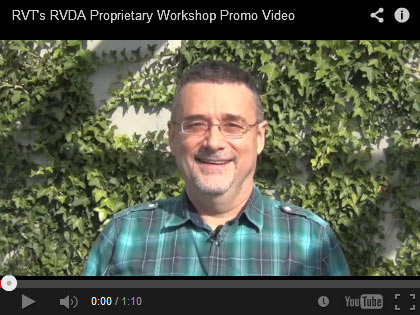 When: Monday, September 30, 2013.    3:30 PM to 4:45 PM
Where: Brasilia Room 1
Also, whether you're going to the Show – or not – you ARE ELIGIBLE for our fantastic Show Offers!  
Stop by Booth # 207 (or email me, chris@rvt.com) and we'll set you up with a …
Free 30-Day Trial RVT Dealer Account (Non-customers only.)
and / or
A Free 30-Day Ad Upgrades Trial  (Must have RVT Dealer Account or be on a free trial with RVT.)
Looking forward to meeting as many dealers from the RVAdvertiser community as possible … in Vegas!
Comments