If I was an RV buyer, ready to purchase … why would I be "smart" to call your particular dealership?
Why should I email you?  What's in it for me (WII FM) to call you?  What might I expect if I stop by for a visit?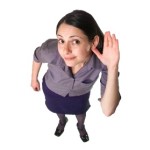 Tell me – Ready …  set … go!
If you're like most RV dealers, you're now listing off all your dealership's key differentiators – in your mind – but one huge question remains …
How Many ONLINE Buyers Have You TOLD? … Lately?
You and your people perform amazing services for your RV buying customers.  Day in & day out.  You give great value.  You go the extra mile, you over-deliver, you bend over backwards.  You make deals happen.  Way to go.  Good job.
But …
Do you tell all your online buyers – before they purchase – while they are in "shopping mode"?  The very best place to tell would-be buyers why you're best, how this specific unit will benefit their family and how you're going to alleviate their concerns is in the Descriptions of your online RV listings … where your buyers go to research.
Here's an example of what I'm getting at:
Address Your Buyer's Biggest Concerns …
Let's take towing for instance.
What if you lined up the last 100 families who bought a towable from you … how many (out of 100) would you say truly "understood" towing before they bought?  (This will vary among dealerships.)
And in reality, most buyers are a little apprehensive about towing, aren't they?  They're often full of questions about towing and frankly, a lot of buyers need your help figuring out what they should do.  And, you help.  You help with towing questions all day long.  Your great product knowledge shines through!  You've been answering towing questions for 20+ years – you can do it in your sleep.
But, here's the kicker … (and this is costing you money) …
Roughly 75% of your buyers have towing related questions and yet, on all your towables listings there's (most likely) NOT one (1) word that mentions your ability to help folks figure out their towing questions.
Not one word.  Why?
You know it's a huge concern.  You know you help lots of buyers figure it out.  But up front, in the Descriptions of your listings, you're not addressing the buyer's deepest concerns and you're not telling buyers you're here to help.
Interesting …
Need More Buyers – Try This …
If somewhere between 1,000 to 2,500+ buyers are going to physically "open up" and "read through" your listings on RVT – this month alone – how many EXTRA buyers do you think would respond to you (calls, emails, walk-ins) IF you added phrases like this into each of your towables Descriptions?:
"Wondering if you can tow this RV?  Let XYZ RV help.  We know towing.  Feel free to stop by with your tow vehicle and let's discuss."

"Many travel trailer (or 5th wheel) shoppers feel concerned about towing.  We understand.  Towing can often seem complex, even nerve-wracking.   Feel free to give us a quick call, tell us about your tow vehicle.  Let's discuss."

"What vehicle are you thinking about towing this gorgeous 5th wheel with?  Give us a quick call to discuss your towing situation."
How many more buyers would pick up the phone and call your number?
Prudence:  Ultimately what buyers tow with which vehicle is up to the buyer.  I'm not suggesting you make unwise, legally binding statements like: "whatever we advise you about towing is the final word and nothing will ever break."  Don't go there.
Just Do What Great Marketers Do:  Use your buyers' deepest concerns (as well as your buyers' biggest needs, wants and desires) to drive inquiry, to stimulate interaction, to compel face-to-face or telephone dialogue.  Go there.
Your Turn:  What could you say to nervous, cautious towables buyers – in your listings' Descriptions! – that might get you several more calls per week, per month?  Feel free to comment below.
 For More Walk-Ins and Calls, Answer These Questions
in the Descriptions of Your Units
What does your dealership do for buyers that most other dealerships do not do?
Describe what the process will look like for my family and I if we drive up to your lot and jump out of our pick-up truck.  [Are you family friendly, fresh pot of coffee on, easy-going, highly knowledgeable, expert advice, low pressure, fun atmosphere?  Buyers like these.  But they only find out if you tell them!]
What can I expect?
How will my experience with you help me?  [And don't say, "We'll sell you a trailer!"  Remember, I'm not trying to buy a tin box I can roll down bumpy roads.  No.  I'm on RVT shopping for a lifestyle.  Family time.  Memories.  Do your descriptions sell me what I want to buy or are they just long, drawn out lists of features?]
So, I'm reading your classified listing … what extra or "insider" information could you give me if I was to call you?  [Mention it in your ads.]
How many more buyers (out of the ~ 2,000 who are going to look this month) would call you?
Here's Another Example of Huge Benefits to RV Buyers
That Dealers OFTEN Fail To Mention in Their Listings.
For some dealers, more than 1/2 your buyers are from out-of-state.  And, you're good at out-of-state sales.  You like that business.  You have special systems and processes all set up which make your dealership an ideal place for out-of-state buyers.
But here's the rub …
You say NOTHING about it in your listings.  Thousands of buyers (many from out-of-state) will see your inventory every month and here's what they get to read …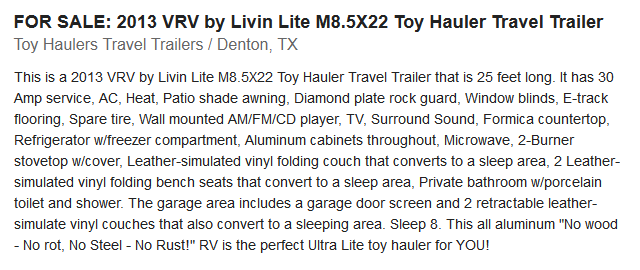 You love out-of-state buyers!  If you want more to call you, ASK them to by mentioning how easy you are to work with in your listings.
As you can see, there are many great angles dealers can use inside their RV Descriptions to stimulate more calls from buyers.  Let's not underestimate the power of written Descriptions to bring buyers in through your doors.
Comments