It may sound somewhat intense, but Dennis Galbraith of DrivingSales.com, in his book, "Online Vehicle Merchandising" makes it crystal clear.  Did you know you can actually "read" an RV dealer?
Read an RV dealer?
How?
By "reading" their inventory.
And, it stands to reason … if a prospective customer takes a good, hard look at the presentation of your RV inventory (online or off), that customer is "reading" / learning / discovering quite a lot about – not only the different RVs – but also, about your dealership, your culture and the way you do business.
So, What Can You Do to Optimize Your Online Presence or the Way Your RV Inventory "Reads"?
Here's a great tool – a new report – exclusive for RVT.com advertisers – you can access anytime.  (NON-customers – access your free trial here now.)  It gives you a snapshot of how your inventory "reads."  Is it complete?  Does your online presentation of your inventory professionally cover all your bases?  Does it help ensure …
Your ads get found when RV consumers search?
Your ads win the clicks on a Search Results Page?
Your Vehicle Detail Pages win more inquiries?
RV Data Integrity Score
Here's what a great RV Data Integrity Score can look like:
Notice the specific items your RV classified ads are scored on.  (Don't worry about the Caption Entered slot at 0%.  RVT.com automatically populates your caption with year, make and model if blank.)
But, you might ask …
"Who cares about how many slide outs the unit has?"
"Who cares about the exact Model Number?"
Well, if a consumer searches for RVs with zero slides, or, if they search for a specific Model Number – when your RV inventory data is 100% complete, you'll enjoy your units showing up in all such searches.  Translation:  You'll get more leads.
Conversely, here's an RV Data Integrity Score that could use some improvements: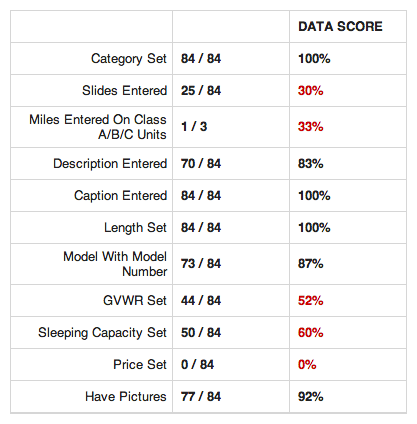 Items to Examine:
Some consumers like slides – some don't.  Consistently entering the number of slides gives the consumer knowledge – what shopping online is all about.
Mileage on motorized units is important.
This dealer has 14 ads online with absolutely no descriptions whatsoever.  Yikes!
SIDEBAR:  Regarding descriptions, stay tuned.  In future RVAdvertiser.com posts, we'll be discussing "best practices" description writing in some detail.
The RV's weight can be a critical factor in the buyer's purchase decision.  Good to provide weights.
Prices.  We have overwhelming evidence that ads with prices get more leads and better quality leads.  (Stay tuned to RVAdvertiser.com for more statistical proof and discussion to come!)
Again, use your RV Data Integrity Score report to "read" your inventory, to gain understanding and as a starting point for items you can improve upon so you generate more leads.
How to Access This Crucial Report:
1.  Login to your RVT.com Dealer Account.
2.  Click Tools.
And, that's it.  You're there.
Extra Assistance is Always Available
If you have any questions about your Data Integrity Score, what each score means / indicates or how to improve your classified ads, please be in touch.  I'm available to help!  Email:  Chris at rvt.com or give me a quick call at (800) 282-2183 x 710.
After all, your online classifieds ARE your virtual sales lot, and they tell the story your prospective customers are reading!