This article is about avoiding the use of what is known as "duplicate content" in your online ads. More than just avoiding duplicate content, it's also about creating unique and engaging content in it's place.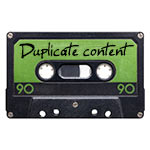 To be clear, I mean copying (and pasting) product descriptions and feature lists from manufacturers websites or third party data providers like NADA – verbatim.
Before I get into this I want to start by saying that creating a lot of high quality and unique content isn't necessarily easy or quick, but over the years working as an SEO consultant I have personally seen it to be effective and worthwhile; this practice has been integral in helping me produce online success stories (and continues to).
If your dealership is struggling with this, I recommend setting a goal to do at least half of your content "yourself" (i.e. you or your Internet Sales Manager/team) to start. Then see how that goes, and as your processes and capacity improves you can scale up to 100% (or as close to it as possible).
Let's first establish the fact that duplicate content is generally bad for search. I don't want you to miss this.
Google's been giving website owners and content creators hints* on how to rank by saying these kinds of thing for years, and I quote (emphases added):
· The "Steps to a Google-friendly site" Google Webmaster Tools Support Page starts with this:
"Provide high-quality content on your pages, especially your homepage. This is the single most important thing to do."
· This video from Google's official "Search Quality Team" says:
"First and foremost, you want to create original content."
· Moreover, the "Duplicate Content" page also from Google Webmaster Tools Support states that:
"Google tries hard to index and show pages with distinct information."
There are many more examples of this kind of language from Google that I have come across in the past.
In essence, this means that there is no shortcut and no workaround to creating high quality, unique content (if you want to rank in organic search).
Good News!
The good news is that once you clear all of that copied text out of your ads, there is plenty of room for:
As far as technical description writing specifics, RVT's Chris Mapson has a number of strong posts on the topic and goes into greater detail on these tactics during his RV Sales Maximizer Sessions.
Suffice it to say duplicating content is "so '90s" and not advisable if you want strong search engine rankings.
Bio:
Drew Clifton is a web analytics and search engine optimization consultant with RVT.com.
—
*They're more than hints really; Google has been direct and consistent with this type of messaging for some time.
Comments
Kymee Martinak

April 24th, 2014 at 11:34 am

I knew all of this because of trying to rank on my site but I never new that it applied to classified ads. Great info. Something just thought of, does that include craigslist Ads
Hope all is well
Kymee

Drew

April 24th, 2014 at 11:50 am

Hi Kymee, this is a good point to bring up.

Some content tends to be "syndicated" by nature, classified ads definitely fit into that group.

Try to make sure that your syndicated content at least starts out its life as a unique piece of content (i.e., you are only duplicating your own unique content that didn't exist anywhere else before you created it), that way at least you're not competing against the original creators; coming up with distinct ad copy for every classifieds service probably isn't practical or realistic.

I hope that made sense. 🙂