It's mighty hard to deny.  You and I both know that location is absolutely huge in retail.
Now, lock that age-old truth ("location, location, location") in your mind – but – take the logic 1-step further and ask yourself these …
3 crucial questions:
What does "location" really mean – to an RV dealer – when RV buyers have largely moved their pre-sale research (not to mention a lot of their shopping behaviors) … online?
What would be the direct dollar impact on RV sales if an RV dealer who admittedly has a killer street location – was to come up virtually MIA in the online RV shopper's buying experience?
And, how specifically can your dealership effectively "play the location game" when there's now (supposedly) a level playing field online – a playing field where smaller dealers, without the great locations (if they work it correctly) can look a whole lot more visible than the big boys?
The answer?
You have to jockey for position in the buyer's eye.  Online.
Here's how:
First, the 2 basic, no-brainers:
You must strictly police the creation of your online RV listings (the photos, the video and yes, your written descriptions and calls-to-action) so you are 100% certain that your listings themselves stand a fighting chance of generating you loads of calls, emails and walk-ins.  Your listings themselves must outshine your competitors' more *blazee* classified ads which many cash buyers often pass right over.)
Let's assume you have those 2 bets covered.  Now …
Grab the best "Post Position" horse racing fans,
as you jockey (for buyers!)
Remember the huge IHS – Polk Study in the auto sector?  (2013 Buyer Influence Study)  The Study found that for both new & used vehicles, buyers actually spend more time on 3rd party sites (like RVT.com) than they do on Dealer or OEM sites.
By far.  Check this out: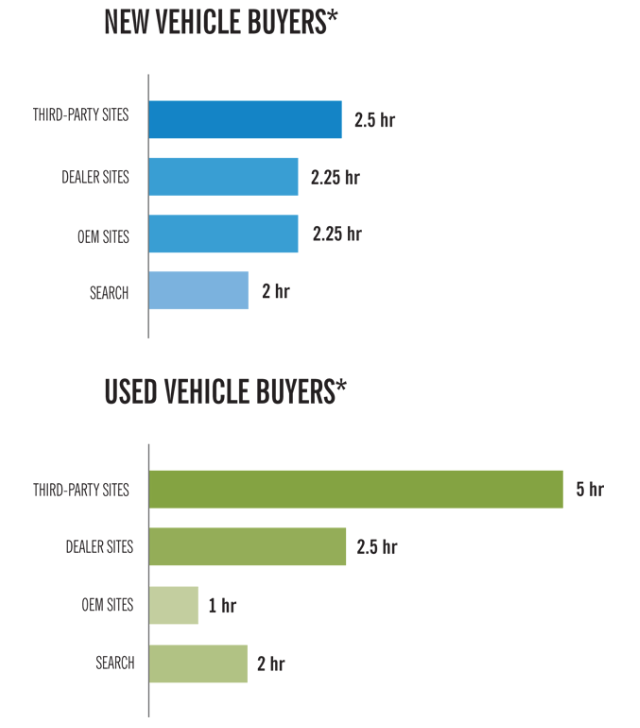 Of course, this is an auto sector study but it likely reflects the RV buying process fairly closely as well.
Your location VS. your buyer's location …
So, if you know your buyers are "located" (and actively shopping) on 3rd party sites (like RVT) even more than they're "located" on your site (or your OEMs' sites), it makes logical sense that you would want to jockey for the best positions on RVT so you maximize your exposure where your buyers are shopping.
Here are some actions your buyers perform
on RVT.com:
 They run millions of RV Searches every month …
To jockey for position in the buyer's eyes, you might want to consider our new Super Leaderboards so you dominate the top of all the Search Results pages which RVT shows to buyers in your region?
These Super Leaderboards are massive:  Over a foot-long (13" x 3") on a on a desktop!
Here's a couple of examples:
View more sample Super Leaderboards here.
And, the click-through-rates (CTRs) are very strong.  Great if you want to drive buyers to …
Your website
Your YouTube channel
Your "Red Tag" Sale, your next RV Show, or your "Daily Internet" Specials page etc.
NOTE:  These Super Leaderboards average 3 to 8 X more clicks than standard, cross-industrial Internet banner ads.  Nice!
 Find buyers who are "located" looking deep within the Search Results on RVT.
When people Google, 94% will typically only look at the first page of results.
Not so for buyers on RVT.com.
Our buyers are famous for combing all the way through the Search Results we show them for Searches they run.
Quick example:
Let's say a buyer searches for 5th wheels within 100 miles of Seattle.  We'll show them all 300 we have listed.  That's more than 10 pages of Search Results!  Well, RV buyers are not shy to dig right through them, page after page, looking for that perfect unit.
Official stats:  
Buyers on RVT visit "greater than page 1 results" 14.5% more than they view "page 1 results."
RV Consumers Online – Fall 2014 RV Market Report by RVT.com
So, the "location" your next buyer is shopping is deep inside the searches they are running.  Let's Parade to the Post, jockey for position and capitalize!  Why not sprinkle advertisements for your dealership throughout the Search Results pages?
Try some of these:
And some of these:
And some of these:
NOTE:  These are called regular banners.  They are lower cost than the Super Leaderboards, of course, but the clicks (plus the branding your dealership gets to active RV shoppers) are still just as valuable.
This is how savvy RV dealers jockey for position and beat out their sleepy competitors.  They determine they are going to "own" a strong presence in the buyer's purchase process.
No matter where your dealership's located, you can take your dealership's brand and key selling messages directly to your buyers at the online locations where buyers are known to shop.
For further info, look here  or  call your RVT sales rep or call 800-282-2183 x 710 for more details.