Significant increases in RV shopper lead volumes (and additional RV sales) are now being "enjoyed" by a certain, select few dealers (and manufacturers.)
These lucky ones have a few secrets in common.
They've experimented – and figured out how to win the race!  They've managed to "grab the attention" of more RV shoppers than others – and – they sell more RVs as a result.
This article exposes 2 key ingredients in their "Secret Sauce":
Savvy dealers are into online Display Ads (a.k.a. banner ads) – BUT – they're placing these click-grabbing banners in very strategic locations.  And, equally as important …
These winning dealers no longer "settle for" mediocre messaging.   No.
Rather, they …
Understand what appeals to an RV shopper and
Are intimately familiar with the RV buying process (and all of its dynamics.)
And, they use this knowledge to build ads that are …     
Compelling and generate response
Superior graphic design
Only shown in optimal online locations
Targeted precisely to RV shoppers.
What One Dealer Recently Told Us:
"I can directly relate 2 sales in the last month to leads I received from RVT and the banner ads!  For a minimal Investment, I am receiving great exposure on the Internet, and, in this age of the Internet, I strongly believe that is what business is all about."
Dara Kort, GM, Holiday RV, Poncha Springs, CO
When you dig a little deeper into the question of banner ads, you'll find, as with any advertising …
"Some Ads Work … and … Some Don't."
Banners are no exception.  Some banner ads simply NEVER get clicked where others get clicked – a lot!
Let's look at some examples of how different banners have been "changed up" or "tweaked" over time and the resulting increases certain dealers (and OEMs) have enjoyed.
Banner Ad MAKE OVERS – "Before & After" –
Including Click Through Rate (CTR) Analysis  
Here's an older banner ad that was used by a dealer.  (NOTE:  We've blanked out the company name and logo for confidentiality purposes.)
It seems like a decent banner – a bit general perhaps because it's "going after" both diesel motor home buyers and travel trailer buyers as well.  Click through rates were above industry average, but we thought we might be able to improve it.
So, we split the 2 different product lines and used sophisticated targeting to show RV shoppers who are actively searching for a diesel pusher the banner that advertises ONLY diesel pushers.  And the same for travel trailer buyers.
Here are the re-made ads: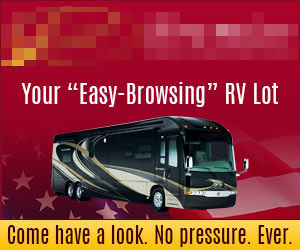 For a fresh strategic angle, we asked the dealer:
What makes your dealership different?
Why would a buyer want to come to your dealership?
What's so great about you?
He said that a lot of dealers in his area were "very aggressive" sales organizations and that the difference with his dealership was that …
All his coaches were open for browsing all the time.
They do not have an aggressive sales style and
Shoppers often commented on and really like the non-pushy atmosphere of his business.
So, we chose to highlight what he told us consumers like about his shop.  I.e. "Your Easy-Browsing RV Lot.  Come have a look.  No pressure.  Ever."
An Added Strategic Touch:
Sure, competition's mighty tough in this dealer's region.  No problem.  This dealer chose to broaden his geographic targeting to neighboring States where he knows competition is a little thinner, not quite as tight.
That's a smart geo-targeting maneuver.
He's now pulling buyers to his RV classified listings from markets he would not have otherwise been able to tap into.
How Did These New Banners "Pull"?
580% more clicks.
Almost 6 X as many people clicked these newly, re-strategized, re-designed, ads.
Winner!
Here's another example.  This time it's an RV manufacturer.  Their original banner looked like:
Shows a great warranty.  "Structural" warranty only?  Might make buyers wonder about materials, workmanship, non-structural components etc.  But, this banner definitely pulled clicks at higher than industry norms.
Think Through Your Strategic Scenario:
If you want to get into banners (or just "tune up" the ones you're currently running) put yourself in your buyer's shoes.  If you were a typical RV consumer, you would land on RVT.com, and punch in a search for "truck campers."  So far, so good.
You would be met with a huge, long list of truck campers for sale. Perfect.  Now, you might own any one of a dozen (or more) different kinds of pick-up trucks – 1/2 tons, 3/4 tons, 1 tons – how is the consumer supposed to know which camper might fit HIS truck?
The fact is … he doesn't.
So, this truck camper OEM tried to make it easier for the consumer.  Here's his re-designed banner ad …
The Truck Camper Fit Guide! Perfect!  Exactly what lots of consumers need in order to help them narrow down their choices, or come to grips with which camper they really need.
How Did These New Banners "Pull"?
500% more clicks.
5 times more consumers click these new banners, head over to the OEM's website, find their pick-up truck on his list and begin looking at specific models of his truck campers that will work on their trucks.  Brilliant!
In conclusion, dealers tell us that Display Ads / banners are a great investment that results in RV sales.  What's more, a strategic, geo-targeted banner campaign that focuses on the RV shopper's needs can bring you many times more RV shopper clicks as well.
Comments
Kymee Martinak

January 31st, 2014 at 2:18 pm

Another great one filled with great advice! Thanks Chris.
God bless and have a great weekend. Hope you'll be out there enjoying it! ;o)

Dealers: Want To Expand Your Market Reach? Here's How … | Digital and Social Advertising for RV Dealers and Industry - RVAdvertiser.com

July 23rd, 2014 at 4:36 pm

[…] results.  Extremely strong clicks to his banners.  Great levels of inquiry (leads!), and sales.  Nice. […]