Folks say it's "super-human," the way Eddie sells RVs at his dealership … there isn't a person alive who can possibly keep up.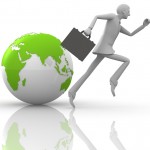 You see, Eddie is a traveling RV salesman.  And, here's the inside track on exactly how his "system" works …  
It starts the minute a buyer comes onto Eddie's lot.  "Ah ha!  A black F-350," Eddie says to himself.  "Perfect!  With that tow vehicle, they can buy a …
5th wheel
A toy hauler
A nice travel trailer, anything!"
Soon enough, Eddie's got the buyers interested in a specific unit.  They kick tires.  They kick baseboards.  They love it!  But sadly, they don't close …  and, off they go in their shiny black F-350.
And Eddie?  He's completely undeterred.  He magically continues to communicate with the buyer – on the road!
They head out on I-5 (South) …
As they approach a gigantic road-side billboard sign, it recognizes Eddie's customer and the sign automatically changes to read …  
"Sizzling Summer Sale Ends Tuesday!
Visit Eddie's RVs."
HUSBAND:  "Hey, look at that sign, honey.  That's Eddie's RVs, the place we just visited.  That trailer we looked at could be the perfect fit.  We need to make a decision so we get the sale price!"
Next, the happy RV buyer couple stops at a local drug store to buy a couple of magazines.  But meanwhile, Eddie has already planted a special message in Better Homes and Gardens … so later that evening, when the wife is paging through – "magically" – she spots an ad for Eddie's RVs …
Eddie's RVs … Helping Families
Enjoy the Great Outdoors …
Since 1984!
WIFE:  "Hey honey, how did you like that RV we saw today?  You know I really think we should do this.  For the family."
Next day … 
Our unsuspecting RV buyers are out & about, carrying on with "life as usual" but, traveling Eddie is at it again!
They pass by one of those transit bus shelters on the side of the road.  It magically recognizes Eddie's customers and – automatically – changes ads to show … 
Need Financing for Your Next RV?
Ultra Flexible Options at …
Eddie's RVs
1-800-555-8185
WIFE:  "How are we going to pay for that RV, honey?  We should talk to Eddie again."
HUSBAND:  Agrees.  Spots phone number on Eddie's ad.  Dials hands-free from his truck … "Hello Eddie?  What are we going to do about financing that beautiful RV you showed us?  What are my options?"
And, just like so many buyers before, traveling Eddie's "system" of continuously marketing (i.e. re-marketing) buyers again and again works perfectly.
Another Buyer Magically
Calls Eddie Back. 
No wonder Eddie sells so many RVs.  He knows how to "stay with" his buyers.  Eddie is there throughout the buying cycle.  
He presents exactly the right message(s) to exactly the right buyer(s) at exactly the right time(s).  And he handles literally thousands of prospective buyers at the same time in exactly the same way.
It's super-human!
Eddie's re-marketing known RV shoppers.  And of course, you can too.
Let's be crystal clear.  Eddie's not actually following buyers down I-5.  No.  He's using RVT.com's RV Shopper Re-Marketing Services.
Eddie's Secret Sauce …
It's simple.  Eddie gets RVT to put "cookies" on RV shoppers' computers for him.  And it's these cookies that tell Google to show Eddie's real RV buyers one of his Display Ads – wherever the buyers go online!
Like our example of the WIFE paging through Better Homes and Gardens magazine, the re-marketing example for that would be when she visits www.bhg.com (or literally 90% of the Internet,) she sees Eddie's Display Ad there.
Eddie's RVs "seems like" they're traveling along with each individual buyer because ads keep popping up in front of folks – folks who have recently been sifting through RV classified ads – looking for an RV they can buy.
Interested in having your own "Eddie the traveling RV salesman"?  Let RVT.com know.  Fill out the form here.
Comments
Dealers: Want To Expand Your Market Reach? Here's How … | Digital and Social Advertising for RV Dealers and Industry - RVAdvertiser.com

July 23rd, 2014 at 4:12 pm

[…] When they are OFF of RVT – we can show them your banner ads – all across the Internet – for as long as you want.  (Re-targeting.) […]