Some dealers love to try and dominate their own geographic regions.  This is a great "legacy" strategy, for sure.  But other dealers watch various sales coming to them from a-far and they make some very interesting, coldly calculated moves to help them capture more of this lucrative by-distance "Gross."
Let's explore ideas and tactics.
"You're Calling Me From Where?
And, You Want to Put a Deposit on What?"
A quick illustration (based on a true story.)
A dealer with very limited online RV marketing experience signed up with RVT early in 2014.  We got his inventory online fast and the phone started ringing.  
A woman calls about one of his used RVs.  She's from 350 miles away.
Within 7 minutes he's got an easy deposit for that unit on her VISA card!
Sight unseen!
New to this notion, the dealer was blown away!  He calls me.  "Chris, go listen to that call."  (He has recording turned "on" for his special 1-800 tracking number.)  
I listen to the call.  I can tell he's a very professional sales manager, but I can also tell he's more than little shocked – in a good way.  
She's offering him a deposit.  She's never seen the unit.  He's never sold a unit "sight unseen" before, but he rolls with it.  He takes the deposit and – as the story goes – she shows up at his dealership the following week – and buys!
Done deal!
RV Dealer Marketing to Those Distant Buyers … 
"How can I do more of this?" he asks.

Me:  "Do you think there are more buyers in that region for you?"

"Sure.  I think there are lots of buyers over there who are looking for our Brands and especially the kind of used product we like to stock."

Me:  "Well, let's run some banner ads for your dealership and let's ONLY show them to buyers from over there?  Sound like a plan?"
And, it's been working.  Very well.  With no end in sight.
How It Works:
When a buyer lands on RVT.com, we know where s/he is accessing the Internet from.  We use their IP address and calculate their Zip Code.
Once we know where each buyer is located, the "geo-targeting" fun begins …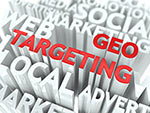 While they're on RVT – we can show them your dealership's banner ads.
Plus, we put cookies onto their computers as well, so that …
When they are OFF of RVT – we can show them your banner ads – all across the Internet – for as long as you want.  (Re-targeting.)
Another Real Life Story From the Dealership Trenches …
Another dealer (in a brutally competitive market) runs his business a lot differently than any of his competitors.  He calls himself an "easy browsing lot."
The doors to his RVs are always open.
Buyers don't have to walk through the Office to get out onto his lot.
I.e. you don't have to "run the gauntlet" of Salespeople before you can kick a tire.
And, buyers tell him they LOVE his dealership for that specific reason.  So …
He started running banner ads on RVT in other promising markets from between 2 and 12 hours away – leveraging his "easy browsing" message.  
Astounding results.  Extremely strong clicks to his banners.  Great levels of inquiry (leads!), and sales.  Nice.  
It's a very strategic approach:  
He spots an opportunity some distance away.
He realizes RVT knows where each buyer is located.
He chooses to show his differentiating message to bonafide buyers in opportunistic regions.
Ca-ching!
Another Savvy "Twist" on Expanding Your Market to Drive RV Sales …
Not only do we know where buyers are searching the Internet from, but also, buyers often use our Advanced Search Feature and tell us specifically where they want buy their next RV as well.
When a buyer chooses to Advanced Search in YOUR region – no matter where they're from – you can be MORE "in front of" that buyer by making sure he / she sees banner ads for your dealership.
They may (or may not) live where you are, but they're 100% shopping where you are!
Quick Re-cap:  Dealer Market Expansion Techniques …
TACTIC # 1.  Target buyers where you think they are …
"What about that oil boom in North Dakota?  Those guys are buying RVs!  Let's make sure every buyer in North Dakota knows about us!"
Or
"Let's target snowbirds!  Yah, buyers from northern regions.  Lots of them prefer to purchase RVs here …"
Or
"Why do we always get a few customers from the Chicago area?  Maybe we should run some banners to Chicago area RV shoppers."
TACTIC # 2:  Target buyers from ANYWHERE who specifically choose to buy in YOUR area …
Both Tactics get your dealership front & center in the RV buyer's shopping process – exactly where you need to be!
Where are you seeing buyers come from?  
Where would you like to expand your market into?  
And, what key messages would you tell buyers in distant target regions about your dealership?
Comments
Dennis

July 24th, 2014 at 2:01 am

Good stuff as always Chris! As soon as I finished reading the article, I hopped on Google and typed in "sell your rv". Here's the order of the suggestions by Google:

1. sell your rv
2. sell your rv online
3. sell your rv fast
4. sell your rv for free
5. sell your rv in North Dakota

Thanks for all you do!

What the Wolf of Wall St. Would Tell You About Selling More RVs ... | Digital and Social Advertising for RV Dealers and Industry - RVAdvertiser.com

October 1st, 2014 at 4:29 pm

[…] Website visitors who are re-targeted convert at rates 70% higher than visitors who are not re-targeted. […]